Ave Maria Meditations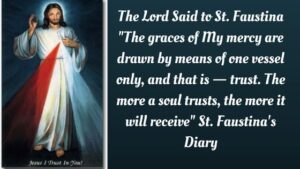 It is easier to say than it is to do sometimes when we think about the need to trust in God.  But thinking about His mercy which is an attribute so dear to His Heart can help us. Jesus said, "Come to Me all who labor and are burdened, and I will give you rest" (Mt 11:28). That rest is another word for peace, peace in our souls. For without turning to God, it is too easy to be swallowed up by the situations and circumstances that are beyond our control and we have no peace.
Many people have known unemployment, school struggles, family issues, loneliness, fear, and even depression with all that has been happening in this world.  So much has changed in the past year.  We may feel helpless or controlled. We have not always been able to receive the Sacraments. Dealing with so many difficulties, sufferings or illness even, is often beyond our human strength alone; we need God. This is why St. Peter reminded us to "Cast all your anxiety on Him because He cares for you" (Pet 5:7).
Many have probably seen the image of the Divine Mercy and the words Jesus asked St. Faustina to put with the image: Jesus, I trust in You. This trust is not a feeling but is an act of the will just as love is. Jesus told this Saint that "When  a soul approaches Me with trust, I fill it with an abundance of graces." In this time of uncertainty, let us turn to the Lord and say, "O Blood and Water which gushed forth from the Heart of Jesus as a font of mercy for us, I trust in You." And also perhaps "My Jesus, mercy!"  We can also turn to Our Lady of Mercy in times of difficulty and come to know her motherly help.  Her rosary especially is a great spiritual aid for us.
Ave Maria!