Ave Maria Meditations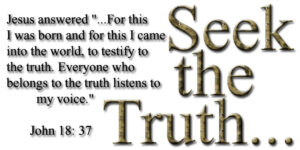 "I am the way, and the truth, and the life", said our Precious Lord. What did He mean by saying He is the Truth? Recall that when Jesus was sent before Pilate, he responded to Jesus by saying "What is truth?" This was after Jesus had proclaimed that He had come into the world to bear witness to the truth and that everyone who is of the truth hears His voice. (John 18:37). Maybe recall also that Jesus said for His disciples to continue in His word, His teachings, so that "You will know the truth and the truth will set you free." (John 8:32). How can I know I hear his voice?  How so?
Do I know the truth when I hear it? Where do I find the truth; where can I hear it? These days we are told that much of the news is fake news. There is confusion as we are told one thing one week and something different the next. There are lies! And just who is called the "father of lies"? Yes, the devil!  And devils are very real. They are powerful fallen angels that seek to turn us from the Truth who is Jesus Christ and His teachings that come down to us through the centuries in the Church. The truth does not change just as God does not change; true moral standards do not change either. We will look more closely at what is meant by truth in the next installment.
Ave Maria!