Ave Maria Meditations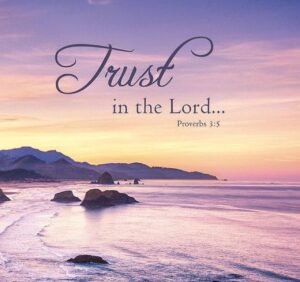 Some thoughts about trusting in God:  In more than one place in the gospel our Lord, Jesus, says, "Fear is useless, what is needed is trust" (Luke 8:50). He also advises, "Let not your hearts be troubled" (John 14:1). Yet we know that this past year has brought about many difficult concerns. The way we live our lives is different now. There is confusion, uncertainty about the future, worry, and anxiety. For some, there is depression and loneliness. Certainly we have seen things happen in America that we never dreamed we would see.
Yet in the midst of all these things just named how can we find peace for ourselves? It might be easy to say to just trust in God, to have confidence in Him no matter the circumstances, but it is not so easy to do. Saint Paul tells us to "Not be anxious…but in every situation by prayer and thanksgiving, present your requests to God" (Phil. 4:6). Here are some suggestions to help overcome the concerns of the day and to come to a place of trust and peace. First of all, we must pray! Everyone can make time for this, time for God even if only starting with 15 minutes a day. The rosary is very calming and a great spiritual weapon as well. Reading of the scripture, the Gospels and Psalms especially, can turn a heart and mind to God. And most helpful of all is frequent Communion and Confession. With these spiritual tools, we can find our way to interior peace.
Another heavenly aid to help us is to turn to the Blessed Mother who said at Fatima that her Immaculate Heart would be our refuge.  Our Lady and the Saints are always ready to hear our prayers and to help us in our needs and bring us closer to God. 
Ave Maria!