Ave Maria Meditations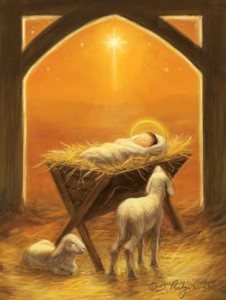 Oh Divine Redeemer Jesus Christ, prostrate before Your crib, I believe You are the God of infinite majesty, even though I do not see You here as but a helpless babe. I humbly adore and thank You for having so humbled Yourself for my salvation as to will to be born in a stable. I thank You for all You wished to suffer for me in Bethlehem: for the poverty and humility, for the nakedness, tears, cold, and sufferings.
Would that I could show You the tenderness which Your Virgin Mother had towards You, and love You as she did. Would that I could praise You with the joy of the angels, that I could kneel before You with the faith of Saint Joseph, or the simplicity of the shepherds.
Uniting myself with these first adorers at the crib, I offer to You the homage of my heart, and I beg that You would be born spiritually in my soul. Make me reflect on some degree on the virtues of Your admirable nativity. Fill me with that spirit of renunciation, of poverty, of humility, which prompted You to assume the weakness of our nature and to be born amid destitution and suffering.
Grant that from this day forward I may in all things seek Your greater glory and may enjoy that peace promised to men of goodwill.