Ave Maria Meditations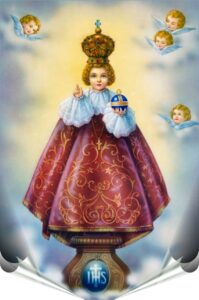 As we prepare to once again remember the coming of the Baby Jesus here is a prayer f thanksgiving:
I prostrate myself before Your holy image, most gracious Infant Jesus, to offer You my most fervent thanks for the blessings that You have bestowed upon me. I shall incessantly praise Your great mercy and confess that You alone are my God, my helper and my protector. Henceforth my entire confidence shall be placed in You!
Everywhere I shall proclaim aloud Your mercy and generosity, so that Your great love and the great deeds which You have performed through this miraculous image may be acknowledged by all.
May devotion to Your holy infancy increase more and more in the hearts of all Christians, and may all who experience Your assistance persevere with me in showing unceasing gratitude to Your most holy infancy to which be praise and glory forever. Amen.
And, dear Little King, help us to do all we can to save the lives of precious infants, born and unborn. Amen.