Ave Maria Meditations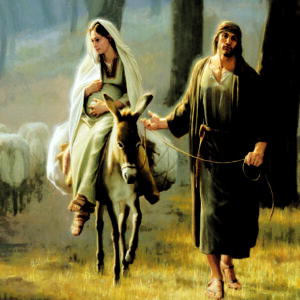 God had foreseen that His Son would be born of the Virgin Mary, in a family just like any other, and that in her He would develop in His humanity. The life of Jesus had to be in this respect the same as that of other men. He was to be born defenseless, in need of a father who would protect Him and teach Him the things that all fathers should teach their sons.
The essence and ultimate meaning of Joseph's life had to lie in the fulfillment of his mission as Mary's husband and the father of Jesus. He was born into the world to act as the father of Jesus and be Mary's most chaste spouse, in the same way that every person who comes into the world has a specific vocation from God, in which is rooted the whole meaning of his life.
When the angel revealed to him the mystery of the virgin birth of Jesus, Joseph fully accepted his vocation, in which he was to remain faithful until death. His worldly mission was to be the head of the Holy Family. Saint Joseph's whole glory and happiness lay in his knowing how to understand what God wanted of him and in his having faithfully carried it out to the end.
Today in our prayer let us contemplate Joseph at the side of the Blessed Virgin, who is with Child and soon to give birth to her only begotten Son. Let us resolve to spend the time of Christmas at Saint Joseph's side, a place as unnoticed as it is privileged. How good Joseph is!
Fr. Francis Fernandez