Ave Maria Meditations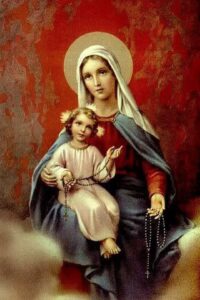 A prayer to the Immaculate Mother of God: Immaculate Virgin, Mother of God and my mother, from your sublime throne in heaven turn upon me your eyes of pity. Filled with  confidence in your goodness, and knowing full well your power, I beg you to extend to me your helping hand in this journey of life, which is so full of dangers for my soul.
In order that I may never be the slave of the devil through sin, but may ever live with a humble and pure heart, I entrust myself entirely to you. I consecrate my heart to you forever, my only desire being to love your divine Son, Jesus. Mary, none of your devoted servants has ever perished. May I, too, be saved.
You are all fair, Mary and the original stain is not in you. You are the glory of Jerusalem, you are the joy of Israel, you are the great honor of our people, you are the advocate of sinners.
O loving Mother of our Savior, the open gate leading us to heaven, and Star of the Sea, hasten to aid us: We who fall but seek to rise again. You brought forth your Maker, who is your holy Lord, while all nature gazed in awe and wonder, Virgin ever, after as before, through the mouth of Gabriel heaven spoke its Ave, have compassion on us sinners. Even after giving birth, you remained a virgin. Mother of God intercede for us.
O  God, who through the virginity of the Blessed Mary gave all men the riches of eternal salvation, we can treat You to let us feel the intercession of her who gave us the Author of Life, our Lord Jesus Christ, your Son.
From a Marian Prayerbook