Ave Maria Meditations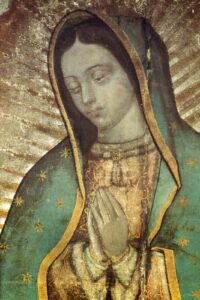 Our Lady of Guadalupe:  Christianity established a continuity with regard to places of worship, while at the same time renewing other cults through its own contributions. The most impressive example of such continuity within change is the picture of our Lady of Guadalupe. The venerations of the tilma began at the place where once had stood a distinguished image of "our venerable mother, lady snake," an important native goddess. It is significant, though, that she wears no mask and that her face is visible.
In the figures and symbols with which (Our Lady) appears, the entire wealth of the previous religions is taken up and unified around a new center, which descends from new heights. She stands above the religions, so to speak, but does not trample them. Thus Our Lady of Guadalupe is in many respects an image of the relationship between Christianity and the religions of the world: all of these streams flow together into it, are purified and renewed.
Pope Benedict XVI (from Benedictus)