Ave Maria Meditations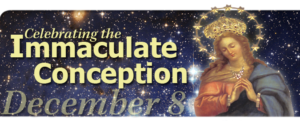 The Virgin Mary was called by the fathers of the Church "all holy," the term beloved to this day by Christians in the east. She was declared to be free from all state of sin, and fashioned by the Holy Spirit into a kind of new substance and a new creature. The Second Vatican Council asserts that she was adorned with the radiance of a singular holiness from the first moment of her conception.
We might pray like this: Mary Mother of God, I believe all that holy mother Church teaches about your Immaculate Conception and that from the first moment of your conception you possessed justice and holiness,  that is sanctifying grace, even the fullness of grace, with the infused virtues and gifts    of the Holy Spirit, and with integrity of nature; yet you remained subject to death and other pains and mysteries of life that your Son Himself would also undergo.
Your soul is the creation and the masterpiece of Almighty workmanship. The angel Gabriel said: " Hail, Full of Grace" and there was no room for sin because where God dwells, Satan could have no rights. Blessed are you among women and you were elevated above all other women in the world.  Mary, Mother of God, no stain of original sin ever filled your pure soul. This privilege separates you from all the rest of the children of Adam.
From a Marian Prayer Book