Ave Maria Meditations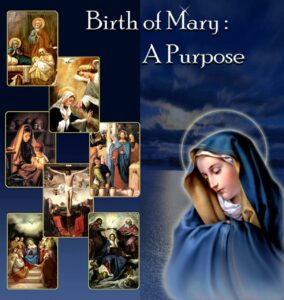 Mary, Mother of God, you are the Virgin who is promised as the Mother of the Savior… Prophets foretold the coming of the Savior and the manner in which the redemption would take place. They spoke of you as His Virgin Mother and of the part you would play in the redemption of mankind…
Your birth was awaited as the nearest sign of the deliverance of the human race. The Church regards you as the rising dawn. As the dawn precedes and announces the coming of the sun, makes the darkness of the night disappear, consoles the sick and rejoices all nature, so you went before and announced Jesus, "the Son of Justice," Who made the darkness of the world disappear by the light of His gospel, consoled and cured the sick in soul and body, and brought an abundance of graces and blessings to the whole world.
Mary, at the very beginning of your existence you received grace exceeding in greatness that of all of the saints because you were destined to be the Mother of the Redeemer and the Mediatrix of the world. From the first instance of your existence your mind was filled by the supernatural light of faith and your soul with love of God. Who can describe the grace that adorned your soul at the glorious instant of your nativity! Your soul had never been touched by original sin. With my whole heart, I think God for all He has done for you and for all mankind through you.
+Fr. Lawrence Lovasik S.V.D.