Ave Maria Meditations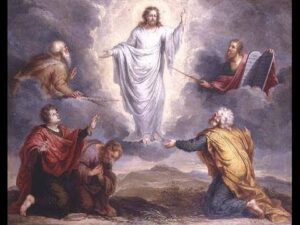 Matthew 17:1-9:  And after six days Jesus taketh unto him Peter and James, and John his brother, and bringeth them up into a high mountain apart:  And he was transfigured before them. And his face did shine as the sun: and his garments became white as snow… And as he was yet speaking, behold a bright cloud overshadowed them. And lo, a voice out of the cloud, saying: This is my beloved Son, in whom I am well pleased: hear ye Him.  And the disciples hearing, fell upon their face, and were very much afraid.  And Jesus came and touched them: and said to them, Arise, and fear not.
The transfiguration only renders visible what is actually taking place in Jesus's prayer: He is sharing in God's radiance and hence in the manner in which the true meaning of the Old Testament, and of all history, is being made visible, i.e. revelation.
Jesus' proclamation proceeds from this participation in God's radiance, God's glory, which also involves a seeing with the eyes of God, and therefore the unfolding of what was hidden. The entire person of Jesus is contained in His prayer.
Pope Benedict XVI