Ave Maria Meditations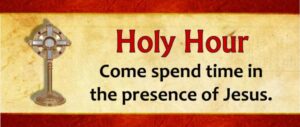 Neither theological knowledge nor social action alone is enough to keep us in love with Christ unless both are preceded by a personal encounter with Him. Theological insights are gained not only from between two covers of a book, but from two bent knees before an altar. The HOLY HOUR becomes like an oxygen tank to revive the breath of the Holy Spirit in the midst of the foul and fetid atmosphere of the world.
The Church believes that a HOLY HOUR spent before the Blessed Sacrament does more good for the well-being of the world than whole days spent in talking about progress to the utter oblivion of the fact that the only true progress consists in the diminution of the traces of original sin; she believes that an increase of sanctifying grace in a soul is of far more value than the increase of international credit; that a group of cloistered nuns in prayer are more effective in preserving world peace than a group of world politicians discussing peace. 
+Venerable Fulton Sheen