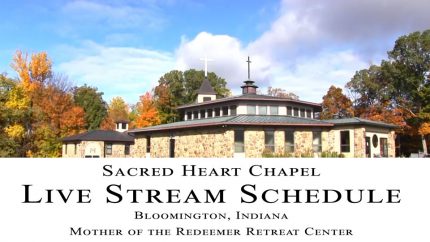 Ave Maria!
Special Schedule for Divine Mercy Sunday, April 18:
Mass at 9:15 am followed by Rosary – Glorious Mysteries (normal Sunday Schedule)
2:30 pm Holy Hour will be replaced by a Divine Mercy Devotion including:
Exposition of the Blessed Sacrament
Reflection from the Diary of Divine Mercy
Chaplet of Divine Mercy (sung)
Benediction
Normal Schedule:
There are two live streams each day from the Sacred Heart Chapel at our friary in Bloomington, Indiana.
Morning Mass with Rosary at 7 am and
afternoon Holy Hour  3:45-5:30 pm with differences on weekends (see below).
The Holy Hour consists of Exposition & Silent Adoration (3:45), Vespers (4:30), Rosary (~4:50), Litany & Benediction (~5:15). These can be viewed at AirMaria and the FranciscanFriars YouTube channel. Please share this with all who may be interested.
Here is the detailed live stream schedule from the Sacred Heart Chapel
Mass & Rosary Live Stream Schedule:
Sundays – 9:15 am
Mon-Fri – 7 am (Fri – Seven Sorrows of Our Lady instead of Rosary, Sometimes)
Saturdays – Noon (Angelus before Mass, No Rosary after)
Holy Hour Live Stream Schedule (Exposition, Silent Adoration, Vespers, Rosary, Litany, Benediction):
Mon-Sat 3:45-5:30 pm
Sun 4-5 pm (no Silent Adoration)
Other daily differences for Holy Hour
Fri – Stations of the Cross instead of Rosary (but not during Easter Season)
Sat – Seven Joys of Our Lady instead of Rosary
Sun – Seven Glories of Our Lady instead of Rosary
Times are US Eastern Time (UTC-4)
https://www.youtube.com/user/franciscanfriars