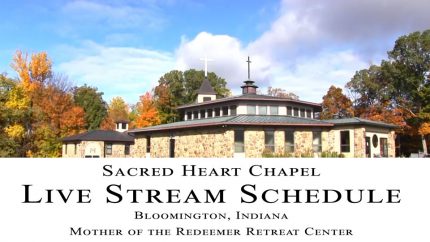 Ave Maria!
Special Schedule August 4-21, 2022:
Live Stream Schedule: (US Eastern Time):
All streams will be from Griswold CT
Mornings:
Mon-Sat 7 AM Mass only
Sunday 9 AM Rosary, 9:30 Mass
Afternoons:
Everyday: 4 PM Adoration, 4:30 Vespers, Rosary, Benediction
After the 21st alternating back and forth between Griswold and Bloomington on a schedule to be determined.
Fridays – Stations of the Cross instead of Rosary except on feast days and Easter Season
Usual Schedule:
There are two live streams each day from the Sacred Heart Chapel at our friary in Bloomington, Indiana.
Morning Mass with Rosary at 7 am and
afternoon Holy Hour  3:45-5:30 pm
with differences on weekends (see below).
The Holy Hour consists of Exposition & Silent Adoration (3:45), Vespers (4:30), Rosary (~4:50), Litany & Benediction (~5:15). These can be viewed at AirMaria and the FranciscanFriars YouTube channel. Please share this with all who may be interested.
Here is the detailed live stream schedule from the Sacred Heart Chapel
Mass & Rosary Live Stream Schedule:
Mon-Fri – 7 am (Fri – Seven Sorrows of Our Lady instead of Rosary, Sometimes)
Saturdays – Noon (Angelus before Mass, No Rosary after)
Sundays – Unfortunately, Mass will not be streamed on Sunday since we are often away at other parishes.
Holy Hour Live Stream Schedule (Exposition, Silent Adoration, Vespers, Rosary, Litany, Benediction):
Mon-Sat 3:45-5:30 pm
Sun 4-5 pm (no Silent Adoration)
Other daily differences for Holy Hour
Fri – Stations of the Cross instead of Rosary (but not during Easter Season)
Sat – Seven Joys of Our Lady instead of Rosary
Sun – Seven Glories of Our Lady instead of Rosary
Times are US Eastern Time (UTC-4)
https://www.youtube.com/user/franciscanfriars