Ave Maria Meditations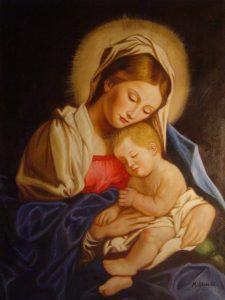 Blessed Mary has no chance place in the divine dispensation. The Word of God did not nearly come to her and go from her. He did not pass through her, as He visits us in Holy Communion. It was no heavenly body which the Eternal Son assumed, fashion by the angels and brought down to this lower world. No, He imbibed, He absorbed into His Divine Person her blood and the substance of her flesh; by becoming man of her, He received her lineaments and features, as the appropriate character in which He was to manifest Himself to mankind.
The child is like the parent, and we may well suppose that by His likeness to her was manifested her relationship to Him. Her sanctity comes, not only of her being His Mother, but also of His being her Son.
And hence the titles which we are accustomed to give to her (such as) He is the Wisdom of God; she therefore is the Seat of Wisdom. His presence is heaven; she therefore is the Gate of Heaven. He is infinite mercy; she then is the Mother of Mercy. She is the Mother of "fair love, and of fear, and of knowledge, and of holy hope" (Sir 24:24).
Saint John Henry Newman