Pro-life: Abby Johnson's Journey Cont. – 2/3 – Sidewalk Counselors' Retreat 2019 – CONF 518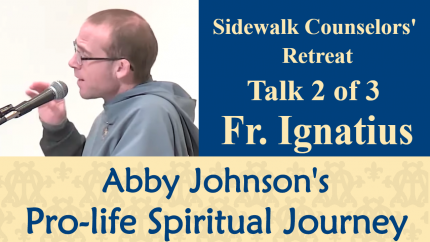 Ave Maria!
Fr. Ignatius Manfredonia, FI gives the second talk of 3 for the
Sidewalk Counselors' Retreat 2019
which continues his talk on Abby Johnson's Journey where he left off. Here is the complete outline:
Previous video:
https://youtu.be/kD9SMrO72aM
Abby Johnson's Journey
- 1) Mortal (formal) Sin
- 2) Rejecting Conscience
This video starts here:
- 3) Intellect Darkened
- 4) Abyss calls to Abyss
- 5) Satanic Secrets
- 6) Grace Intervenes
- 7) Lessons from Abby


Learn tactics


Presence makes a difference


Don't be radical (Graphics, Murderer, not helpful)


Be kind talk to them


Teach chastity


Tell mothers they are mothers


What would have moved her What would your mother think


Need to pray and sacrifice


Patience and perseverance through discouragements


Conversions are the fruit of years of sacrifice


Keep in mind that it works


This retreat was held a the
Mother of the Redeemer Retreat Center
for the spiritual renewal and encouragement of pro-life sidewalk counselors on December 14, 2019.
http://www.maryschildren.com/
For more videos from this retreat:
https://airmaria.com/tag/sidewalk-counselors-retreat-2019/
YouTube Playlist:
https://www.youtube.com/watch?v=kD9SMrO72aM&list=PLejh_e0-LN4xSGu4iLfIjb_b-td9plNOA