Ave Maria Meditations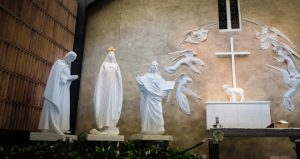 At about 8 o'clock on the Thursday evening of the 21st of August, 1879, the Blessed Virgin Mary, St. Joseph and St. John the Evangelist appeared at the South gable of the Church at Knock, County Mayo, Ireland, beside them and a little to the right was an altar with a cross and the figure of a lamb, around which angels hovered.
There were fifteen official witnesses to the apparition-young and old.  They watched it for two hours in pouring rain and recited the Rosary. Today, Knock ranks among the world's major Marian Shrines with the full approval of the Church.  Pope John Paul II visited the shrine on September 30, 1979, presenting the Golden Rose to this Shrine.
 Not everyone is aware however, that the marvelous appearance on the gable of the Knock Church came on the day when the parish priest, Archdeacon Cavanagh, finished offering, as he had promised, 100 consecutive Masses for the suffering souls in Purgatory!   A few months before the apparition the Archdeacon began to offer 100 Masses for the poor souls whom Our Lady wished most to release.  It was on the day of the one hundredth Mass was offered Our Lady came to visit Knock.
Surely, that extraordinary devotion to the Holy Souls had a part to play in the gift of the vision from Heaven.  It's such a response came from heaven to Archdeacon Cavanagh, then surely Our Lady wants to encourage us all to remove the torment of our dead.  Our Lady is the mother of her children, above all her suffering children.  She is the Refuge of Sinners on earth and in Purgatory.