Ave Maria Meditations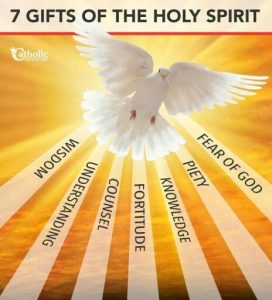 The Servant of God, Luis Martinez, comments on these gifts: "Let us not think that these gifts of the spirit are proper only to souls that have reached certain heights on the road to perfection; let us not believe that only the Saints possess the gifts of the Holy Spirit. All of us possess them!
It is sufficient to have the grace of God in our souls in order to receive them. On the day of our baptism, we receive the gifts of the Holy Spirit together with the virtues and graces. And as long as we possess the grace, we possess also the gifts. They are not something passing: they are permanent; we carry them constantly in our soul. Grace cannot exist without the gifts, and grace and the gifts cannot exist if the Holy Spirit, the divine Director of our spiritual life, is not also present.