1/2 – Fr. Cassian – The Rosary will make you Holy – Marian Day of Reflection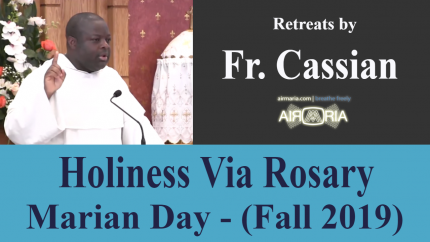 Ave Maria!
At the first talk for the
Fall 2019 Marian Day
at the Mother of the Redeemer Retreat Center, Fr. Cassian Sama, OP  explains the role of the Rosary in becoming a saint. By mediating on the mysteries of the holy Rosary enables us to imitate Christ, to be transformed into Him. This imitation will be focused on removing our predominant fault and practicing the opposite virtue.
Fr. Cassian info:
https://www.boilercatholics.org/meet-the-staff/
For more from this series:
https://airmaria.com/tag/fall-2019-marian-day/
For Youtube Playlist:
https://www.youtube.com/watch?v=fpiywgDaD-8&list=PLejh_e0-LN4zCYsgsRigsttaoMGd0CMMv