Ave Maria Meditations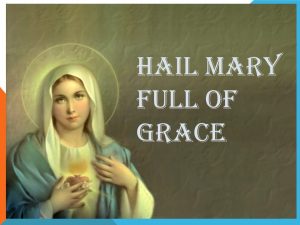 The conversion and sanctification of a soul has been, and shall always be, the work of divine grace. It is impossible to do anything in this field without the grace of God, neither through our words nor through the press or any other external means.
On the contrary, we attain grace for ourselves and for others through our humble prayers, our mortification, and our faithfulness in the fulfillment of our daily duties including the most simple ones. The closer the soul is to God, the more pleasing it is to Him, the more the soul loves and is loved by God, the more effectively the soul shall be able to help others to attain divine grace, the faster and more abundantly shall its prayer be answered.
That is why the Immaculate-being without stain and totally belonging to God-is full of grace and even the Mediatrix of every grace our souls receive. And since we are aware of our weakness, our frequent falls and our distance from God, we turn to her precisely for this: to obtain all kinds of graces for ourselves and for the others.
Therefore the value of every [community] depends only and absolutely on our life of prayer, on our interior life, on our personal closeness to the Immaculate and, through her, to the Heart of Jesus.
St. Maximilian Kolbe