Ave Maria Meditations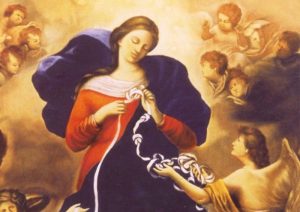 What mysterious power is it that a mother has over a son that, when he confesses his guilt, she strives to minimize it, even when it shocks her heart…. The impure are rarely tolerant of the pure, but only the pure can understand the impure. The more saintly the soul of a confessor, the less he dwells on the gravity of the offense and the more on the love of the offender.
Goodness always lifts the burden of conscience and it never throws a stone to add to its weight. There are many sheaves in the field that the priests and sisters and the faithful are unable to gather in. It is Mary's role to follow these reapers to gather the sinners in. As Nathaniel Hawthorne said: "l have always envied the Catholics that sweet, sacred, Virgin Mother who stands between them and the Deity, intercepting somewhat his awful splendor, but permitting his love to stream on the worshiper more intelligibly to human comprehension through the medium of a woman's tenderness."
Mary will assist us if we but call upon her. There is not a single unhappy soul or sinner in the world who calls upon Mary who is left without mercy. Anyone who invokes her will have the wounds of his soul healed. Sin is a crime…but the Blessed Mother is the refuge. Saint Anselm said that she "was made the Mother of God more for sinners than for the just", which could hardly be doubted, since our Lord Himself said that He came not to save the just but to call sinners to repent.
Venerable Fulton Sheen