Ave Maria Meditations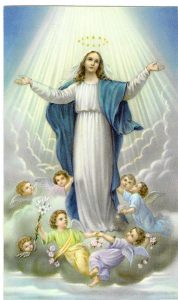 39. We must remember especially that, since the second century, the Virgin Mary has been designated by the holy Fathers as the new Eve, who, although subject to the new Adam, is most intimately associated with him in that struggle against the infernal foe which, as foretold in the protoevangelium, would finally result in that most complete victory over the sin and death which are always mentioned together in the writings of the Apostle of the Gentiles.
Consequently, just as the glorious resurrection of Christ was an essential part and the final sign of this victory, so that struggle which was common to the Blessed Virgin and her divine Son should be brought to a close by the glorification of her virginal body, for the same Apostle says: "When this mortal thing hath put on immortality, then shall come to pass the saying that is written: Death is swallowed up in victory."
40. Hence the revered Mother of God, from all eternity joined in a hidden way with Jesus Christ in one and the same decree of predestination, immaculate in her conception, a most perfect virgin in her divine motherhood, the noble associate of the divine Redeemer who has won a complete triumph over sin and its consequences, finally obtained, as the supreme culmination of her privileges, that she should be preserved free from the corruption of the tomb and that, like her own Son, having overcome death, she might be taken up body and soul to the glory of heaven where, as Queen, she sits in splendor at the right hand of her Son, the immortal King of the Ages…
45. Hence if anyone, which God forbid, should dare willfully to deny or to call into doubt that which we have defined, let him know that he has fallen away completely from the divine and Catholic Faith.
Excerpts from: APOSTOLIC CONSTITUTION OF POPE PIUS XII 
MUNIFICENTISSIMUS DEUS: DEFINING THE DOGMA OF THE ASSUMPTION
November 1, 1950
http://w2.vatican.va/content/pius-xii/en/apost_constitutions/documents/hf_p-xii_apc_19501101_munificentissimus-deus.html