Ave Maria!
A new facility has been blessed by Bishop Ricken at the Marian apparition site in Champion, WI which can handle several times more people than the original chapel. So if you were holding off on organizing a big pilgrimage group to the Shrine of Our Lady of Good Help because of the limited facilities, now is the time to reconsider. And also consider stopping by on the way to another beautiful Marian shrine in Wisconsin, Our Lady of Guadalupe Shrine which our friars staff in La Crosse.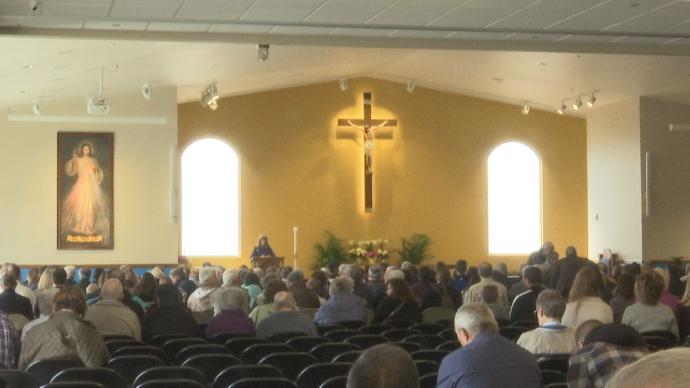 Mother of Mercy Hall can accommodate about 1,200 people and can be closed off to make smaller rooms.

It was only six months ago when members of the church broke ground on the building.

This year marks the 160th anniversary of the blessed Mother's appearance before Adele Brise, encouraging her to create Our Lady of Good Help.

In 2010, Bishop David Ricken granted formal Church approval to the Marian apparition at the Shrine, and in 2016 it was designated as a National Shrine by the U.S. Catholic Conference of Bishops.

"Since 2010, more and more people have been coming every year to pray here and to relive their burdens by turning them over to Jesus and to Mary. In order to provide them proper hospitality we've built this building," said Bishop Ricken.

Members say last year more than 160,000 people visited the Shrine and the current chapel has become too small.

"We had a chapel that could handle about 280 and two small rooms of about 30 each. So, this way it give us the possibilities now not only during the summer time being able to handle larger crowds, but it will also help us serve pilgrims during the cold winter months," said Don Warden, chief operations officer of the shrine.
Source: New prayer and events center blessed at Marian Shrine