(Audio) Interior Castle, #1: Intro, part 1 – CONF 476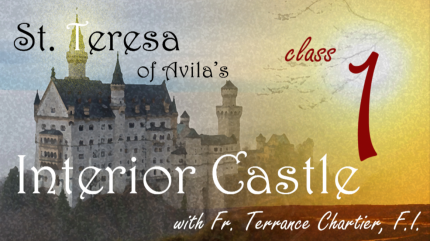 Ave Maria!
Audio Only - Audio has been improved
Fr. Terrance begins a supplemental class for the MIM members in Bloomington, IN, on prayer according to St. Teresa of Avila's book "The Interior Castle." In this first introduction class, Father discusses St Teresa's spiritual itinerary, the differences between the ascetical and mystical stages of the spiritual life, basics on prayer according to St. Teresa, and the 9 conditions for growth in prayer according to the Carmelite saint.
This series on prayer according to St. Teresa of Avila's book "The Interior Castle" is a supplemental class for the
MIM
(Mission of the Immaculate Mediatrix) members in Bloomington, IN,
More video from this series: 
https://airmaria.com/category/air-maria-shows/conferences/interior-castle-teresa-2019/
YouTube Playlist: 
https://www.youtube.com/watch?v=VU7lmindpAw&list=PLejh_e0-LN4zjcLLARZPf2DpYdqqI2Q09
MIM (Mission of the Immaculate Mediatrix):
https://marymediatrix.com/m-i-m/
+++