Recent News From our Friary in Mount St. Francis in Endicott, NY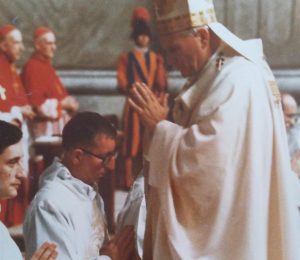 Fr Charles Stanley MacIsaac passed away on the Solemnity of the Annunciation (March 25) at the age of 90. He was a late vocation, joining the Oblates of Wisdom where he attended seminary at the Pontifical College Nepomucenum in Rome. He was the first seminarian for the that institute, which was founded in 1979 "to foster love for Jesus through Mary and thus to promote the teaching of the Church in the light of her dogmatic, moral, and mystical tradition." He was ordained by Pope John Paul II (pictured) on June 12, 1983 and was incardinated in the Diocese of Ponce, Puerto Rico. He taught classes in history to our friars in New Bedford, MA in the early 2000s and later was a chaplain at Christendom College in Front Royal, Virginia. He resided at our friary in Mt. St. Francis for the last few years until entering a nursing home shortly before his death.
He was the youngest son of Duncan and Christine MacIsaac and the brother of the late John J. MacIsaac, of the Catholic Action League of Massachusetts and of the late Brother Hugh MacIsaac, MICM, a superior of the Slaves of the Immaculate Heart of Mary. He is survived by in-laws, nephews and nieces in the Greater Boston area.
The funeral Mass will be at Most Holy Rosary Parish (2596 Main St, Maine, NY 13802) on Friday, April 5 at 11:00 am.
The viewing will take place in the church starting at 10:00 am, an hour before the Mass.
The church will put on a luncheon in the parish hall following the Mass.
The arrangements for the funeral are being made with Allen Funeral Home in Endicott, NY.
Please keep Fr. MacIsaac in your prayers. Farewell good Father. May you rest in peace in the arms of Jesus, Joseph and Mary.