Ave Maria Meditations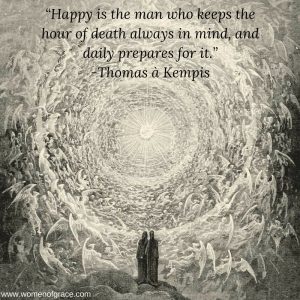 The day will come, O God, when it will be Your will that I come to You, when the darkness and the sorrows shall vanish, and the burden of the body will no longer weigh on me, when my soul will fly at last, freely to Your beauty, to plunge itself into Your holiness, to drink in Your love.
Blessed dawn of eternity, I greet you, not knowing whether from near or far! I must not hope for you because my only wish is to do God's will in life or in death. I know that I must first climb up to Calvary and hang up on the cross before knowing union with God; I know that I possess, and hope to possess still more here below, this union through the grace of God, and a great spirit of abandonment.
I wait and, like the worker who does not know when he or she will receive the final reward, I want in the meantime to fulfill my responsibilities radiantly and peacefully solely for the love of Him who has done everything for me.
Servant of God, Elisabeth Leseur