Ave Maria Meditations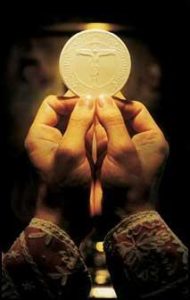 Reflections of a priest on the Holy Sacrifice of the Mass: "O wondrous exchange: The Creator of the human race taking to Himself a living body, deigned to be born of a virgin, and coming forth a man without the concurrence of man, bestows on us men His divinity."
That, dear Lord, is love – for it is You! And that, dear Lord, is exactly what everyone should see when he looks at Mass. It is the Holy Trinity's Second Person whom you meet in Mass. He is divine. He is "God of God, true God of true God," as we sing in the Credo of the Mass.
But He is not there as Omnipotence, though His omnipotence is truly there. Hence, you need never shrink before His power when Mass is being offered; for Almighty God is not there as The Almighty. Nor need you cringe before His infinite majesty, though that majesty is there in all its infinite­ness. Nor is there any call for that fear which one may feel in the presence of a judge who is to pass a sentence from which there is no appeal, Christ, who is Mass, will one day be our Judge; but He does not come as Judge in Mass; He comes only in one guise ­that of a Lover.
You meet God in Mass. Never forget that. You meet Him in Person, but garbed in that personality, if you will allow the word, of the Good Samaritan, the Good Shepherd, or the Father of the Prodigal. Actually jt is in the personality of the One who, with His dying gaze, looked upon those who had just driven spikes through His hands and feet to affix Him to that awful cross, that gibbet of shame, then lifted His voice in prayerful plea to His Father, asking Him to "forgive them," saying that "they do not know what they are doing" (Lk 23: 34). That is the personality in which you meet God in Mass.
It is that of Him who looked with almost His last glance upon a thief who was dying with Him and said: "I assure you, this very day you will be with me in paradise" (Lk 23:43). It cannot be overstressed that you meet God in Mass, but it must not be under stressed that you meet Him as the One who would not condemn the woman taken in adultery, forgave the Magdalene, stated bluntly that He had "come for sinners," and summed up His mission in the words: "I have come that they may have life and have it in abundance" (Jn 10:10).
Since that is the guise in which God is met in Mass, you will understand why this aging priest, your present instructor, far from experiencing any lessening of that holy impatience he knew before his first Mass, that sleep-forbidding longing to be vested and to stand holding Him in his hands, knows now an ever greater concen­tration of time. My day seems all of one hour – the hour of Mass.
Every moment leads to my meeting with my God – or away from today's meeting and on toward tomorrow's. God is my life! I have Him in Mass in the most tangible form possible this side of eternity. Small wonder, then, that Mass is my life! As for you – realize that in Mass you meet God not as your Maker, certainly not as your Judge, in one sense not even as your Redeemer, but only as your Lover. For this is He who said: "I have loved thee with an everlasting love" (Jer 31: 3).
Fr. Raymond O.C.S.O (This is Love)