Ave Maria Meditations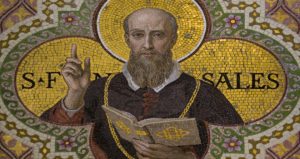 May you always belong to God in this mortal life, serving Him faithfully as you follow Him carrying His cross; and may you belong to Him in the life eternal, blessing Him forever with the whole court of heaven. 
It is our soul's great good to belong to God, and its greatest good to belong to Him alone. He who belongs only to God knows no sadness except that of having offended God; but then his sadness turns into deep yet tranquil humility and submission, and he lifts himself up again in calm and perfect confidence in the divine Goodness, being neither angry with himself nor resentful.
He who only belongs to God seeks Him alone, and because God is to be found no less in tribulation than in prosperity, he remains peaceful in adversity. He who only belongs to God thinks of Him constantly in all that happens to him in this life. He who belongs to God alone does not mind if everyone knows that he intends to serve Him and to practice the devotion which will keep him united to God.
So belong wholly to God and to Him alone, wanting nothing except to please Him and His creatures in Him, in His way and for Him. 
Saint Francis de Sales, Feast Day is January 24th