Ave Maria!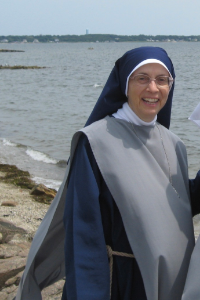 We are saddened to announce that Sr. Ann Marie Evans, the superior for the Franciscan Handmaids of the Immaculate, passed away on Dec 7th at about 9:30 PM, Eve of the Solemnity of the Immaculate Conception, after being hit by a truck as a pedestrian and being medevaced to a hospital. The priest from the parish was able to anoint her at the scene of the accident while she was still conscious. Her sisters from the convent and the parish priest were at her bedside, praying the Divine Mercy chaplet and singing Christmas carols to her until she passed.
The Franciscan Handmaids of the Immaculate are closely associated with the Franciscans of the Immaculate, sharing much of the same spirituality inspired by St. Maximilian Kolbe. Sr. Ann Marie will be deeply missed by all who had the privileged to know her. May God grant her eternal peace in Heaven with Jesus and His Immaculate Mother Mary, whom she served so faithfully. Please keep her soul in your prayers as well as her sister Handmaids, friends and family.
Her funeral Mass will be offered at St. Brendan Church, 382 Hartford Ave., Bellingham on Friday, December 14, 2018 at 10 AM. Burial will follow at St. Joseph Cemetery in Medway. Calling hours will be held at St. Brendan Church on Thursday, December 13, 2018 from 3 PM until 8 PM.
Here is her obituary and more information on funeral arrangements.