Ave Maria Meditations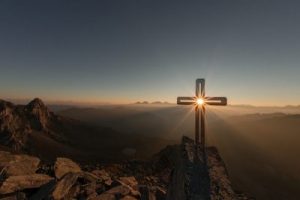 If we are going to stay close to the cross of Jesus with Mary, we must constantly increase our knowledge of the mystery of the cross to relive it….The cross is above all, what divides and separates. In fact, it separates what belongs to the spirit from what is of the flesh (see Gal 5:24), what belongs to faith from what is of the law (see Gal 5:11), the old self from the new one (see Rom 6:6), believers from nonbelievers, Christians from Jews and Greeks (see 1 Cor 1:18 ff.) and the Christian himself from the world….
The cross is what unites, what breaks down the walls of hostility, reconciles people among themselves and with God…. Thanks to the cross of Christ those who were far off have been brought near, the dividing wall has been broken down, all are united…. The cross is both these things together: It distinguishes in order to unite. It separates from the world to unite to God; it rescues from corruption and unites all those who accept being crucified with Christ. It overcomes all differences, revealing their relative and secondary nature before the new radical difference, which distinguishes the friends from the enemies of the cross of Christ (Phil3:18)….
The cross separates and divides. This is true: it is the tool God uses to prune the shoots of the great vine of the Body of Christ so that they may bear fruit…But above all the cross unites. It unites us one to the other. It makes us understanding and caring. Whoever suffers often becomes less egoistic and sees the needs of others; he is no longer impervious to compassion. However, the cross unites us especially to God.
Fr. Raniero Cantalamessa, OFM