Ave Maria Meditations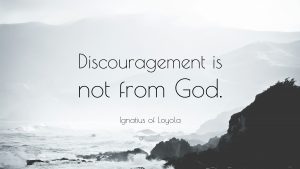 Just now you are the victim of one of the most dangerous temptations that can assail a well-intentioned soul: the temptation of discouragement. I adjure you to offer every resistance in your power.
Again, God permits our everyday faults only to humiliate us!  If you can profit by them and yet remain trusting and at peace, you will be in a better state than you would if you committed no obvious fault and so flattered your self-love greatly, leaving you in grave danger of self-complacency. Actually you can very easily make use of all your faults to become one degree more humble and to dig still more deeply within yourself the one foundation of all true holiness.
Ought we not to admire and bless the infinite goodness of God who can thus derive our greatest good from our very faults? All we need do is to have no love for them, and humble ourselves gently because of them; after each of our falls to pick ourselves up with tireless persistency, and to go to work peacefully to correct them.
Subject yourself to God's will in the work you do, but do not be too eager and restless. Do honestly what you believe you ought to do, and rely on Providence for success, knowing neither care nor anxiety and thus possessing as far as possible a tranquil heart and unshackled mind. Be faithful in this practice and you shall dwell in peace even in the midst of perplexity; while the involuntary troubles you may encounter will serve to increase the merit of the fundamental compliance of your will with God's.
+Fr. Jean-Pierre de Caussade, S.J.