Ave Maria Meditations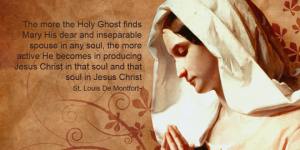 If I were asked by someone seeking to honor our Lady, 'What does genuine devotion to her involve?',  I would answer briefly that it consists in a full appreciation of the privileges and dignity of Our Lady; in expressing our gratitude for her goodness to us; in zealously promoting devotion to her; in constantly appealing for her he]p; in being completely dependent on her; and in placing firm reliance and loving confidence in her motherly goodness….
We must not be among those who are critical and scrupulous, who are afraid of going too far in honoring Our Lady, as if honor given to Our Lady could detract from her Son.
We must not be among those who are lukewarm or self-interested, who have no genuine love for Our Lady or filial confidence in her, and who only pray to her to obtain or keep some temporal benefit.
We must not be like those who are inconstant and casual in their devotion to the Blessed Virgin, who serve her in fits and starts, honor her for a short time, and fall away when temptation comes. Lastly, we must avoid joining those whose devotion is presumptuous, who under the cloak of some exterior practices of devotion to Mary, conceal a heart corrupted by sin, and who imagine that because of such devotion to Mary they will not die without the sacraments but will be saved, no matter what sins they commit.
Saint Louis Marie de Montfort