Ave Maria Meditations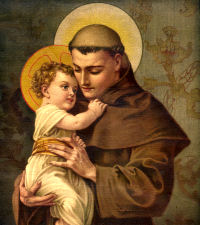 O dear protector, Saint Anthony, this day we direct our fervent prayer to you, asking you to hear us and to intercede for us. We are parents who ask for peace in our families, worthy occupations, and our daily bread. We are children who ask for divine assistance and protection in the hope of a successful and happy future. We are the needy poor, the afflicted, and sinners who come to you for help and grace. Therefore, speak on our behalf to the Child whom you hole in your arms and we are sure of being heard. Amen.
This might be a good prayer to seek this powerful Saint's intercession for those persons dear to us who have lost their way to God…
St. Anthony, a Franciscan Doctor of the Church:  Feast Day is June 13th.