Happy Thanksgiving 2016, 10th Anniversary of First AirMaria Video
Ave Maria!
Happy Thanksgiving to all our viewers from the US! We have much to be thankful for here at AirMaria, but most especially because today, Wednesday November 23, 2016, the eve of Thanksgiving Day is the tenth anniversary of the very first video post on AirMaria! It was done by Fr. Peter Fehlner with his theology series the Golden Thread on Blessed John Duns Scotus. This was before the official launch of AirMaria which was on the following feast of the Annunciation on March 25th 2007. The name was not even decided yet as you can see from the logo on the set which says FITVN for Franciscans of the Immaculate Television Network. As you know we went with AirMaria instead. At the time we were thinking of starting this we hadn't even heard of YouTube and our first video came out about when YouTube was bought by Google. So this was cutting edge for its time and the rest is history.
And what a rich history it has been with over ten thousand posts on our website and over seven thousand videos just on Air Maria with most of them posted on YouTube and many other sites as well with cumulative views in the tens of millions.
We give thanks to God and to everyone for their continued interest both in being avid viewers on AirMaria and in donations and prayers. May God reward you all.
From the first post: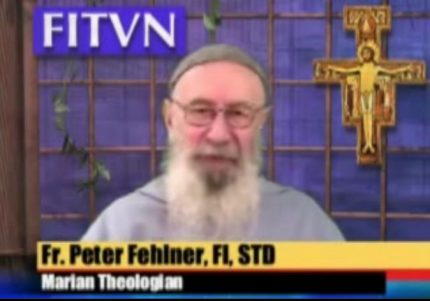 Fr. Peter gives an introduction to his theological series on the John Duns Scotus in the context of a remedy for the modern crisis of faith, philosophy and culture in the world and in the Church.
Outline of Script
Scotus on
Wikipedia
,
New Advent
Duns Scotus's Oxford by Gerard M. Hopkin's
Google of Dunston, England