Ave Maria!
Mark your calendars! June 8-9, 2015.
There will be a momentous marian symposium titled "Sursum Actio" at Notre Dame University in South Bend, Indiana, honoring the lifetime work of Fr. Peter Damian Fehlner, F.I., featuring talks by eminent mariologists.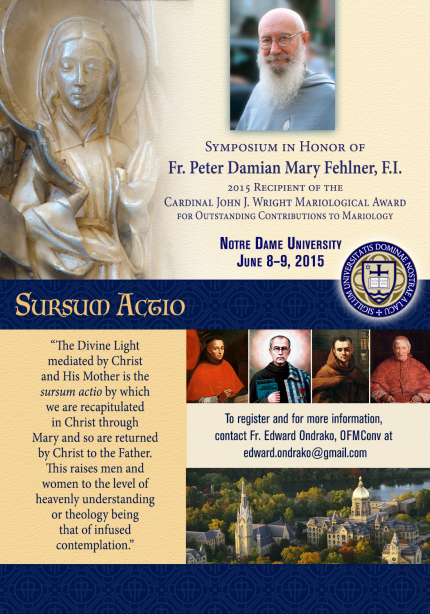 For more information see this larger flyer at MaryVictrix.com (pdf).
To register and for more details contact Fr. Edward Ondrako, OFMConv. at edward.ondrako@gmail.com.
Speakers will include:
Louis Maximilian M. Smith, FI (Franciscan Friars of the Immaculate General Delegate of the USA and editor of Missio Immaculatae International)
J. A. Wayne Hellmann, OFM Conv. (Professor of Theology, Saint Louis University)
Robert Fastiggi, Ph.D. (Professor of Theology, Sacred Heart Seminary)
John Ford, Ph.D. (Professor of Theology, Catholic University of America)
J. Isaac Goff, Ph.D. (Mount Angel Seminary)
Msgr. Arthur B. Calkins, S.T.D.
David Bentley Hart, Ph.D. (Danforth Chair at St. Louis University, Department of Theological Studies)
Alex Plato, Ph.D. (Franciscan University of Steubenville)
John Mark Miravalle, S.T.D. (Assistant Professor of Systematic Theology, Mount St. Mary's Seminary)
Gloria Dodd, S.T.D. (Lecturer & Researcher of the Marian Library/International Marian Research Institute)
R. Trent Pomplun, Ph.D. (Associate Professor, Loyola University Maryland, Department of Theology)
Jonathan Fleischmann, Ph.D. (Assistant Scientist, University of Wisconsin-Madison)
Christiaan Kappes, S.L.D. (Byzantine Catholic Seminary of Ss. Cyril and Methodius)
Jaremy Daggett, M.A. (Great Hearts Academy)
T. Alexander Gilltner, Ph.D., Cand. (Saint Louis University)
Angelo Geiger, FI (Pontifical University of St. Thomas)
Edward Ondrako, OFM Conv. (University of Notre Dame)
Ave Maria!