Ave Maria!
Today is the last day of the Rosary Crawl for the Film Mary of Nazareth. Today it is the Crucifixion of Jesus at Faith & Family Media Blog.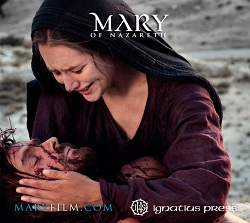 We were asked to be a part of the blog tour/rosary crawl, along with many other inspiring bloggers, for the release of Mary of Nazareth on DVD and we were happy to say "yes"!  See the recap of the #RosaryCrawl HERE.
As part of the tour I am excited to share a clip from the film.  This scene is of the Crucifixion and Death of our Lord."And when they came to the place which is called The Skull, there they crucified him, and the criminals, one on the right and one on the left. And Jesus said, 'Father, forgive them; for they know not what they do' …It was now about the sixth hour, and there was darkness over the whole land until the ninth hour, while the sun's light failed; and the curtain of the temple was torn in two. Then Jesus, crying with a loud voice, said, 'Father, into thy hands I commit my spirit!' And having said this he breathed his last" Lk 23:33-46.
via Mary of Nazareth: A Beautiful Reflection of the Blessed Mother | Faith & Family Media Blog.