Ave Maria!
In light of all the hoopla over the midterm report for the synod I thought this would be helpful from Fr. Barron …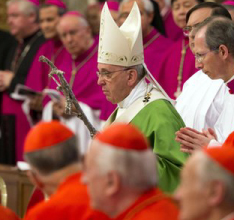 The midterm report on the deliberations of the Synod on the Family has appeared and there is a fair amount of hysteria all around. John Thavis, a veteran Vatican reporter who should know better, has declared this statement "an earthquake, the big one that hit after months of smaller tremors." Certain  commentators on the right have been wringing their hands and bewailing a deep betrayal of the Church's teaching. One even opined that this report is the "silliest document ever issued by the Catholic Church," and some have said that the interim document flaunts the teaching of St. John Paul II. Meanwhile the New York Times confidently announced that the Church has moved from "condemnation of unconventional family situations and toward understanding, openness, and mercy." I think everyone should take a deep breath.
via Having Patience for the Sausage-Making Synod | Word On Fire.