Ave Maria Meditations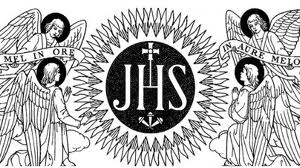 The heart of every Christian should respond to this invitation and exalt the most Holy Name of Our Savior, that is, His very Person, for the Name of Jesus expresses what  He is: Savior, Redeemer. This sacred Name, announced by the Angel to both Mary and Joseph, was given to Our Lord by God Himself. "Thou shalt call His Name Jesus, for He shall save His people from their sins" (Mt 1:21).
This Name expresses and synthesizes the great mysteries of the Incarnation and the Redemption; it is at the center of the universe like a point of contact, like a bridge between God and all mankind. Man can reach God only by means of Jesus and in the Name of Jesus : "for there is other Name under heaven whereby we must be saved".
O glorious Name! Gracious Name! Name full of love and virtue! Through You, sins are forgiven, enemies overcome, the sick healed, and sufferers strengthened in adversity! You are the honor of believers, the Master of preachers, the comfort of those who toil, the support of the weak. Holy desires are nourished by the ardor of Your fire; and by it, necessary suffrages are obtained, contemplative souls are inebriated, and the triumphant are glorified in heavenly glory! By Your most Holy Name, O sweet Jesus, You make us reign with the Blessed, You, their glory, You who triumph gloriously with the Father and the Holy Spirit, in perfect Unity and Trinity, forever and ever.
O Name of Jesus, exalted above every other Name! O triumphant Name! O joy of Angels! O terror of hell! All hope of pardon, of grace and of glory is found in You! O sweetest Name, You pardon the guilty, You reform evil habits, You fill the timid with divine sweetness and drive away terrifying visions! O glorious Name! By You, the mysteries of eternal life are revealed, souls are inflamed with divine love, strengthened in time of struggle, and freed from all dangers. O desirable Name! Delightful Name! Admirable Name! Venerable Name! Little by little You raise the souls of the faithful by Your gifts and graces to the heights of heaven. All to whom You communicate Your ineffable grandeur, by Your power attain to salvation and glory!"
(St. Bernardine of Siena).