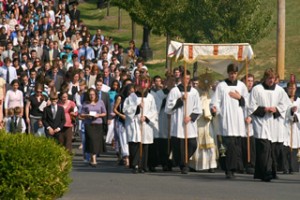 The Christendom College community participated in a consecration to the Sacred Heart of Jesus and the Immaculate Heart of Mary on Sunday, November 24, 2013, the college reported.  Christendom makes the consecration every year on its patronal feast of Christ the King.
Christendom reports:
The college was founded under the patronage of Christ the King and under the mantle of Our Lady of Fatima, and as such, has a deep devotion to both.
"It is imperative that we continue to re-consecrate our hearts and minds to Our Lord and Our Lady each year," says college president Dr. Timothy O'Donnell.  "We have seen so many great fruits as a result of this act of dedication to our heavenly patrons. It is so very important that we take this time each year, on our patronal feast day, to come together as a community and entrust ourselves to the hearts of Jesus and Mary."
The consecration followed the celebration of the Holy Sacrifice of the Mass at which the Rev. Solanus Bonfatti of the Franciscan Friars of the Renewal delivered the homily.  The college also held a Eucharistic procession.
Christendom College is recommended in The Newman Guide for its strong Catholic identity.
Originally published by Catholic Education Daily, an online publication of The Cardinal Newman Society.
via Christendom College Makes Consecration to Sacred Heart and Immaculate Heart.