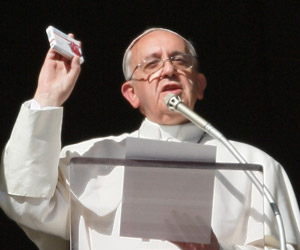 By Cindy Wooden
Catholic News Service
VATICAN CITY (CNS) — Pope Francis admitted he wasn't a pharmacist, but he didn't hesitate being the spokesman for the heart-healthy benefits of 59 little pills strung together: the rosary.
"I want to recommend some medicine for all of you," the pope said Nov. 17 at the end of his Sunday Angelus address. "It's a spiritual medicine."
Holding up a white medicine box with an anatomical drawing of the human heart on it, Pope Francis told some 80,000 people gathered for the midday prayer that the boxes contained a rosary.
"Don't forget to take it," he said. "It's good for your heart, for your soul, for your whole life."
Praying the rosary and the Divine Mercy Chaplet will help people reap the fruits of the Year of Faith, he said, because they are "a spiritual aid for our soul and for spreading love, forgiveness and brotherhood to everyone."
Volunteers, led by Archbishop Konrad Krajewski, director of papal charities, gave away about 20,000 boxes containing a rosary, a Divine Mercy holy card and a medical-style instruction sheet.
In addition to describing how to pray the rosary and the Divine Mercy Chaplet, a devotion begun by St. Faustina Kowalska, the information sheet states categorically that no negative side effects have been reported.
The sheet recommends daily use of the beads for both adults and children, but adds that it can be repeated as often as necessary. It also notes that receiving the sacraments increases the efficacy of the prescription and that further information and assistance can be received from any priest.
The Swiss Guards, their family members and the Albertine Sisters who work in their barracks spent weeks in October, the month of the rosary, preparing the boxes and inserting instructions in Italian, French, English or Polish. Archbishop Krajewski got the idea from Archbishop Slawoj Glodz of Gdansk, Poland; a seminarian in Gdansk had made similar boxes for youths attending a retreat.
END
via CNS STORY: Pope prescribes daily rosary for what ails you.