Ave Maria!
This parish in downtown Los Angeles has had a revival and it looks like it is centered on Our Lady!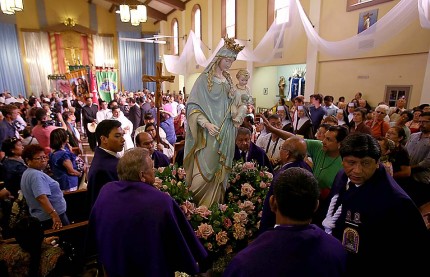 –
by Luis Sinco, Los Angeles Times
On Saturday, I was assigned to photograph the Third Annual Grand Marian Procession at La Placita Church in downtown Los Angeles.
Organized by a Catholic devotional society called the Queen of Angels Foundation, the event featured a parade of Catholic faithful wheeling a float, adorned with flowers and a statue of the Virgin Mary and baby Jesus, through the streets of L.A. to the Cathedral of Our Lady of the Angels.
On a warm, sunny afternoon, hundreds of people joined the procession, which traces its roots to the founding of the city 232 years ago, when a small band of settlers held a Mass and cavalcade to honor the Virgin, or Lady of the Angels, to whom they dedicated and named their new outpost.
The settlers came from Mexico, which then was a colony of Spain – and this weekend's festivities had a distinctly Latino flavor, with participants, dancers and musicians largely reflecting cultures from south of the border.
It struck me that the more things change, the more they stay the same. Latinos now form a majority of the population in the metropolitan pueblo of 21st century Los Angeles, which continues to attract people from all corners of the Earth – and especially Mexico and Central America.
It is fitting that this old tradition is experiencing a modern revival.
via From La Placita Church to Our Lady of the Angels, a modern revival – Framework – Photos and Video – Visual Storytelling from the Los Angeles Times.