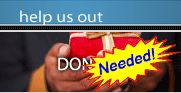 Ave Maria!
If you have tried to make a donation and had trouble using some features on our Donations Page, please try again. The page has been fixed.
We are making much progress on our new High Definition video system. We are trying to get it up to snuff for the Courage Conference at the end of July (25th-28th). Any donations would be appreciated for this. We are a few hundred dollars short of the funds needed. Any help will be appreciated and will help get it ready for all future videos.
We realize the content has been a bit spotty this month. It will continue to be so for the next few weeks but should pick up in August.
Also, we have made significant progress on closing the gap of the monthly fixed expenses verses the monthly donor subscriptions, thank you,  but could still use some more help there.
May God reward you for helping us with our evangelization efforts.
Ave Maria!