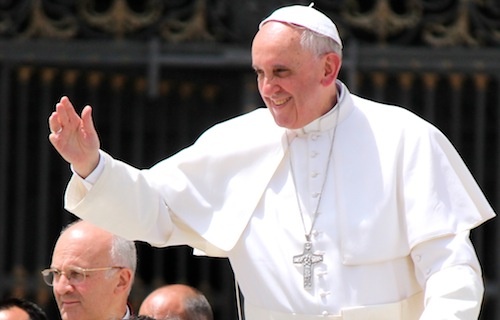 Vatican City, May 31, 2013 / 09:00 am (CNA/EWTN News).- Christians often act like they are "going to a funeral procession rather than to praise God," Pope Francis declared, urging believers to spend time praising God so they are not slaves to their sorrows.

"You here at Mass," the Pope said in the chapel of St. Martha's House, "do you give praise to God or do you only petition God and thank God?

He finished his homily by pointing to Mary as the model of "this praise" and "this joy."

"The Church," the Pope noted, "calls her the 'cause of our joy,' Cause Nostrae Letitiae. Why? Because she brings the greatest joy that is Jesus."

"We need to pray to Our Lady, so that by bringing Jesus she gives us the grace of joy, the joy of freedom. That it gives us the grace to praise, to praise with a prayer of gratuitous praise, because he is worthy of praise, always."
via Praising God frees us from sorrow, Pope proclaims :: Catholic News Agency (CNA).