In preparation for the Feast of the Visitation on Friday, May 31,
My Choice 679 – The B.V. Mary: Magnificat – YouTube.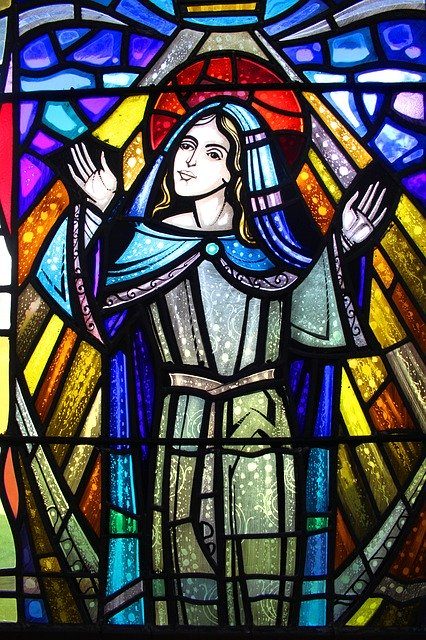 A canticle composed by the Virgin Mary
when She visited Elizabeth
Sung in Latin in Gregorian chant
The Magnificat (Latin: [My soul] magnifies) — also known as the Song of Mary — is a canticle frequently sung liturgically in Christian church services. The text of the canticle is taken directly from the Gospel of Luke (Luke 1:46-55) where it is spoken by the Virgin Mary upon the occasion of her Visitation to her cousin Elizabeth.
In the narrative, after Mary greets Elizabeth, who is pregnant with the future John the Baptist, the child moves within Elizabeth's womb. When Elizabeth praises Mary for her faith, Mary sings what is now known as the Magnificat in response.
The canticle echoes several Old Testament biblical passages, but the most pronounced allusions are to the Song of Hannah, from the Books of Samuel (1Samuel 2:1-10). Along with the Benedictus, as well as several Old Testament canticles, the Magnificat is included in the Book of Odes, an ancient liturgical collection found in some manuscripts of the Septuagint.
Within Christianity, the Magnificat is most frequently recited within the Liturgy of the Hours. In Western Christianity, the Magnificat is most often sung or recited during the main evening prayer service: Vespers within Roman Catholicism and Evening Prayer (or Evensong) within Anglicanism. In Eastern Christianity, the Magnificat is usually sung at Sunday Matins.
Magnificat (In English)
My soul magnifies the Lord,
and my spirit rejoices in God my Savior;
For he has regarded the lowliness of his handmaiden.
For behold, from this day all generations will call me blessed;
For the mighty one has done great things to me, and holy is his name.
And his mercy is on those who fear him from generation to generation.
He has shown strength with his arm;
He has scattered the proud in the imagination of their hearts;
He has cast down the mighty from their thrones and has exalted the holy;
He has filled the hungry with good things,
and the rich he has sent empty away.
He has helped his servant Israel,
in remembrance of his mercy,
as he spoke to our fathers,
to Abraham and to his seed forever.
Magnificat in Latin
Magnificat anima mea Dominum,
et exsultavit spiritus meus in Deo salvatore meo,
quia respexit humilitatem ancillae suae.
Ecce enim ex hoc beatam me dicent omnes generationes,
quia fecit mihi magna,
qui potens est,
et sanctum nomen eius,
et misericordia eius in progenies et progenies
timentibus eum.
Fecit potentiam in brachio suo,
dispersit superbos mente cordis sui;
deposuit potentes de sede
et exaltavit humiles;
esurientes implevit bonis
et divites dimisit inanes.
Suscepit Israel puerum suum,
recordatus misericordiae,
sicut locutus est ad patres nostros,
Abraham et semini eius in saecula.