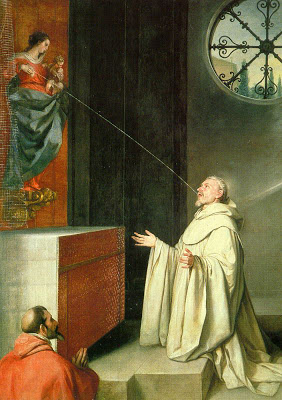 One of the most interesting paintings of Marian devotion
Saint Bernard being comforted by Mary
About three years ago I performed the 33 day consecration to Jesus through Mary as described by St Louis de Montfort. A strange thing happened. On the 33rd day, which I had timed to be August 15 (the Assumption of Mary and my wife's birthday), I entered the church and I experienced this very strange feeling of terror.
It was a demonic attack. It surprised me. I felt a dark presence. I felt terrible feelings and terrible thoughts began to crowd in my mind. I was a little scared. I felt like my soul was being suffocated with smoke.
Yet, I finished my prayers for the 33 Day Consecration in the church and at the very moment I finished, I felt like all the evil smoke had been sucked out of the room. I had an intense feeling of peace, love, grace, and mercy. I felt that Jesus loved me intensely and that Mary had wrapped her mantle around me to protect me. She was drawing me closer to Jesus. I felt it. I cannot explain it.
via The Devils and Consecration to Mary as Taught by St John Damascene & St Louis de Montfort ~ Dr. Taylor Marshall | Canterbury Tales.