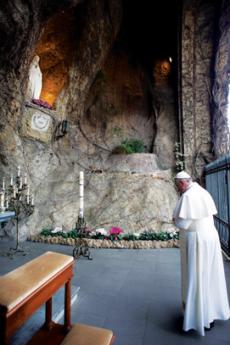 At the Wednesday audience which was May 1st, the first day of the Marian Month and the feast of St Joseph the Worker, Pope Francis made an appeal to end slave labor and then recommended praying the Rosary:
2. In reference to the second thought: in the silence of daily events, St. Joseph, together with Mary, have one common center of attention: Jesus. They accompany and nurture, with commitment and tenderness, the growth of the Son of God made man for us, reflecting on everything that happened. In the Gospels, St. Luke twice emphasizes the attitude of Mary, which is also that of St. Joseph: "She kept all these things and pondered them in her heart" 2,19.51. To listen to the Lord, we must learn to contemplate, feel His constant presence in our lives and we must stop and converse with Him, give him space in prayer. Each of us, even you boys and girls, young people, so many of you here this morning, should ask: how much space do I give to the Lord? Do I stop to talk with him? Ever since we were children, our parents have accustomed us to start and end the day with a prayer, to teach us to feel that the friendship and the love of God accompanies us. Let us remember the Lord more in our daily life! And in this month of May, I would like to recall the importance and beauty of the prayer of the Holy Rosary. Reciting the Hail Mary, we are led to contemplate the mysteries of Jesus, that is, to reflect on the key moments of his life, so that, as with Mary and St. Joseph, He is the center of our thoughts, of our attention and our actions . It would be nice if, especially in this month of May, we could pray the Holy Rosary together in the family, with friends, in the parish, or some prayer to Jesus and the Virgin Mary! Praying together is a precious moment that further strengthens family life, friendship! Let us learn to pray more in the family and as a family!Dear brothers and sisters, we ask Saint Joseph and the Virgin Mary, who teach us to be faithful to our daily tasks, to live our faith in the actions of everyday life and to give more space to the Lord in our lives, to stop to contemplate His face.
via Audience: On May 1st an appeal against slave labor.
photo