Ave Maria!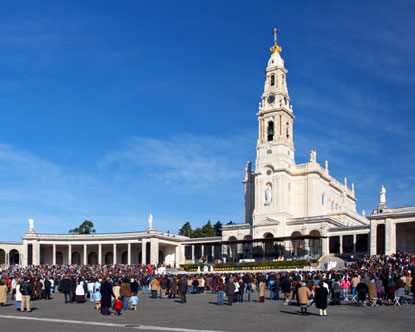 From the official Portuguese site and English translation from veneremurcernui.wordpress.com:
A Portuguese site is reporting that Pope Francis has asked Card. Polycarpo of Lisbon to consecrate his pontificate to Our Lady of Fatima. The Cardinal Patriarch told his brother bishops that the Pope had asked him twice.

It will be done on May 13th, the 96th anniversary of first apparitions to the Lucia, Jacinta, and Francisco.

For those thinking of going to Fatima on the 13th of May, the Cardinal said something would be inserted in the prayer booklet for that day.

I would imagine that everyone could unite in prayer that day, likewise. Fatima has live stream available, so as we get closer we'll see if we can look in……

…….One thing I have noticed and told others about is how Pope Francis responds after Mass when there is a statue of the Blessed Virgin Mary nearby to venerate. He practically runs for the statue like a boy running to his mother, stands there in visible devotion for a minute or two, then leaves. The first time I saw him do this on video, he almost plowed down an unsuspecting MC trying to get there.

There is little doubt in my mind that Pope Francis is very devout when it comes to the Blessed Mother.
http://veneremurcernui.wordpress.com/2013/04/11/pontificate-of-pope-francis-to-our-lady-of-fatima/
HT: Dave E.