Ave Maria Meditations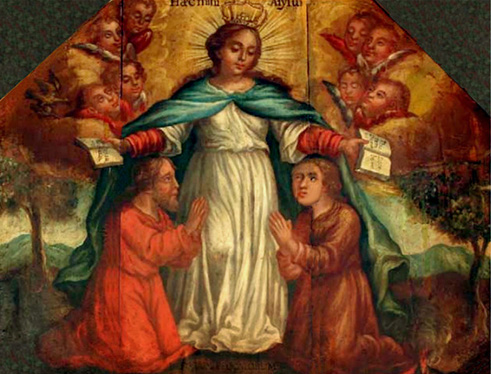 REFERRING to our Lady's great compassion for sinners, St. Bernard calls her the Promised Land flowing with milk and honey. And St. Leo tells us that, when he looks at her, he no longer sees God's justice but only His mercy, for Mary is full of the mercy of God. She is like a fair olive tree in the field (Sir 24: 14). Only oil (a symbol of mercy) is extracted from the olive; only grace and mercy flow from the hands of Mary.
Why is the fair olive tree pictured as standing in the field, and not in some garden, enclosed with walls or hedges? So that all can see her plainly, and get to her without trouble, to secure the remedy for all their evils. And what safer refuge can we find than the compassionate heart of Mary? There the poor find a home, the sick a cure, the afflicted consolation, the doubtful counsel, and the abandoned help…
It must be this way, since all graces are dispensed at Mary's prayer. Where there is no prayer from Mary — there can be no hope of mercy, as our Lord gave St. Bridget to understand — "Unless the prayers of Mary interposed, there could be no hope of mercy." But perhaps you fear that Mary is not aware of our needs, or has no feeling for them. Ah no; she sees and feels them far better than we do ourselves. There is not one among all the Saints who can ever feel for us in our miseries, of body and soul, like this woman, the Most Blessed Virgin Mary…Indeed, Mary is more eager to grant us graces than we are to receive them. Therefore, no matter when we go to her, we find her hands filled with generous mercies.
…In our Lady's case: her spirit is the same as her Son's, and we can never doubt but that she is all mercy. As she said to St. Bridget: "I am called the Mother of Mercy, and it was God's mercy that made me so merciful."
A great sign appeared in the sky, a woman clothed with the sun (Rv. 12: 1). St. Bernard says, "O Lady, thou hast clothed the sun, the Eternal Word, with human flesh, but He has clothed thee with His power and mercy . . . "
" Mary is so compassionate and kind that when sinners, no matter who they are, throw themselves on her charity, she does not investigate their merits, or consider whether they are worthy, but she hears and helps all."
Therefore, St. Idlebert remarks, she is called as beautiful as the moon (Song. 6: 10). She pours her light and favor on all sinners, even the most unworthy, as the moon sheds her radiance on all creatures. And though the moon, says another writer, gets all her light from the sun, yet she completes her cycle of work quicker than the sun —– that is, what it takes a year for the sun to do, the moon does in a month. So, according to St. Anselm, we often get our request more quickly by calling on Mary's name than by calling on the name of Jesus.
We may be afraid (as we said in another place) to go directly to Almighty God, because after all it is His infinite Majesty we have offended. But we should never be afraid of going directly to Mary, because we will find nothing in her to terrify us. True, she is holy, immaculate, and the great Queen of the universe. But at the same time she is also flesh of our flesh, a child of Adam. Always keep in mind that our Lady's protection is greater and more powerful than anything we can imagine.
How is it that the same God Who was so rigorous in punishment under the Old Law now shows such great mercy topersons guilty of far greater crimes? He does it all because of His love for Mary, and on account of her merits.
The world would have been destroyed long ago if it were not for Mary's intercession. And now that we have the Son as Mediator with the Eternal Father, and the Mother with the Son, we have full access to God and can go to Him with absolute confidence, hoping for every good thing from Him. For how can the Father refuse to hear the Son, when He shows Him His side and His wounds, the marks of the sufferings He bore for sinners? And how can the Son refuse to hear His Mother, when she shows Him the breast that nursed Him?
Let us conclude with St. Bernard's beautiful and tender words: "O Mary, thou art clement to those who need thee, compassionate to those who beseech thee, sweet to those who love thee! "Thou art clement to the penitent, compassionate to anyone striving for virtue, sweet to the perfect! "Thou art clement in working for us, compassionate in giving grace, sweet in giving thyself!"
+St. Alphonsus Liguori (From The Glories of Mary)