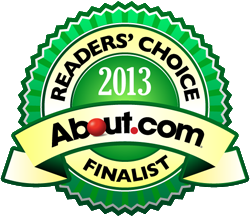 Breviarium Meum has been chosen as one of five finalists in About.com's 2013 Reader's Choice Awards, in the category Best Catholic iOS App. Until March 19, you can cast your vote for our app here. You are permitted (and encouraged) to vote once a day (more precisely, 24 hours must pass between one vote and the next).
Breviarium Meum for iPhone, iPod touch, or iPad

Breviarium Meum allows you to pray the traditional (1962) Latin breviary of the Catholic Church wherever you go. Just pull out your iPhone, iPod touch, or iPad, select the hour to pray, and begin. You can download the texts up to a week in advance, so you can pray even when you don't have a network connection. So if you're on a mountain top making a retreat, or down in a valley to celebrate Mass in an isolated village, you can still keep up with the office, even if you left your printed breviary at home.
Are you unfamiliar with the old breviary? It's a part of your heritage, and one that you have a right to know about and experience. As the instruction Universae Ecclesiae reaffirms, one goal of the motu proprio Summorum Pontificum was to offer "to all the faithful the Roman Liturgy in the Usus Antiquior, considered as a precious treasure to be preserved" (8a).
This app is the easiest way to pray the breviary. It gives you all the texts in order, so you don't have to flip back and forth as you would with a printed breviary. If the text is too small, you can make it bigger. If you don't understand the Latin, you can display a parallel English translation.
Those more familiar with the breviary, and especially priests, will be pleased to see we've included a selection of prayers and blessings in Latin, such as are normally found in the appendix of a breviary.