Ave Maria! As a rebroadcaster of the EWTN Radio (actually WEWN shortwave) on our three FM radio stations, we would like to honor Mother Angelica for making such rebroadcasting possible on the 20th Anniversary of the start of WEWN in Alabama. Thank you also for all our benefactors who have made the rebroadcasts at our individual stations a reality – Deo Gratias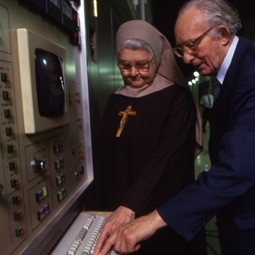 A Signal for the New Evangelization (601)
With 215 stations now broadcasting and further expansion planned, EWTN Radio celebrates its 20th anniversary.
BY TIM DRAKE 12/28/2012 Comment
ON THE AIR. Mother Angelica and the late Piet Derksen, a Dutch businessman, devout Catholic and philanthropist who helped Mother Angelica launch EWTN's worldwide shortwave operation, WEWN, in 1992. EWTN Radio is celebrating its 20th anniversary.
– EWTN photo
Mother Angelica may be best known for starting a Catholic television network, but her launch of shortwave radio on Dec. 28. 1992  has also held its own in the work of the new evangelization. EWTN Radio has seen tremendous growth, with 215 stations now on air and new projects in the works.
For the 20th anniversary of EWTN Radio, David Vacheresse, general manager of EWTN Global Catholic Radio Network, spoke with Register senior writer Tim Drake about the radio network's past, present and future.
What was Mother Angelica's inspiration for launching EWTN Radio?
via A Signal for the New Evangelization | Daily News | NCRegister.com.