Even Huffington Post is tacking up the story of the survivors of the Hurricane Sandy coming to give thanks and receive heavenly strength at the last standing structure at Breezy Point, NY, a statue of the Virgin Mary.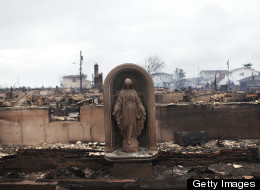 BREEZY POINT, N.Y. — Some came by foot, walking miles in mud-soaked jeans and galoshes from cold shelters and barely inhabitable homes. Others carpooled from far-flung cities and boroughs where they had sought refuge. They came bearing small crosses, candles, hymn books and American flags, and squeezed into pews in one of the few familiar spaces left intact after Hurricane Sandy tore through Breezy Point, a tight-knit oceanside community and one of the city's most devastated neighborhoods.
via Breezy Point Catholics Meet For Mass After Hurricane Sandy, Taking 'Strength In Faith'.